TERUEL September 19, 2013: Within minutes, rumors started spreading like wildfire that a bomb exploded in Teruel! I found it hard to believe that this could happen for such a quiet, quaint city far from any airport or major government buildings. Within minutes, I heard the high frequency sound of an ambulance and then… silence. Things continued as normal…
…but not for everyone. I learned that a bomb actually did go off and two people were injured — a young man in his early 20´s, Alberto, and his father, had been injured from a latent Spanish Civil War bomb. Just minutes before, Alberto and his father were helping their 86 year-old neighbor to clear out a few things in his garage. As Alberto lifted one particular box, his life changed forever. That box triggered a bomb which exploded. Both were taken to the local hospital, Alberto was badly hurt and sustained extensive injuries. Their physical and emotional scares will take much time to heal.
I learned that there are still hidden bombs around Spain, a remembrance of the war that was. The Spanish Civil War was over 75 years ago from 1936-1939 and its memories still haunt the last of its generation who will take their stories to their graves. Only a few are still around to speak of the horrors, and most don´t want to talk about them at all.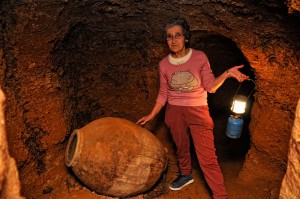 Modesta took me down to the tunnel that run underneath her house. During the war, her family used this tunnel to survive the bombings.
Many men were killed while protecting their families and cities. Some were thrown into jails as far as Russia and women were left to fend for themselves to find food and safety for their children.
Another woman I spoke to from a small village in Aragón, Josefa, told me how hungry she was and that food had to be rationed each day. She said eggs and bread were a commodity. Others moved deep into the mountains to find refuge but the long, hard winters were unbearable.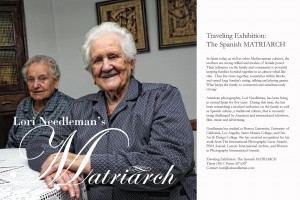 The war left families in total desperation to reinvent the term family. Women who lost their husbands had to go to work while raising their children. It was quite a change for this once traditional Catholic country where women did not work. Many went to work in the fields, in shops or took government jobs. Most families had to live in multi-generational homes to survive, a structure, which still exists today, and in many Mediterranean countries.
Nowadays, almost all who fought in the war are gone, only a few elders remain, those who were children at the time. The survivors don´t speak much of the war; they seem to want to forget it, enjoy their families and everyday life. So as you travel through Spain along the winding roads, looking at castle walls crumbling or enjoying a wild festival, it´s important to think about the historical aspects, which have affected and influenced the Spain we see today.
— Lori Needleman